---
---
NEW: Vintage Honey Mead – 12 years old.  Invigorating – Mellow in Taste – Great Gift, click on the pic. to order.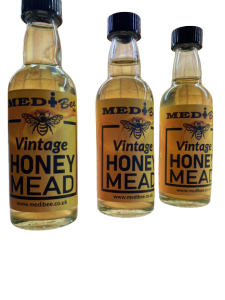 MEDIBEE – ASTONISHED – BEES FLYING AT NEW YEAR – it has been all systems go – since then!
Stepping across the courtyard on New Year's Day this year, 2022 – I screeched to everyone – I can hear a bee – and another one – Oh My!
Gee whiz – the temperature in the afternoon of  1st January 2022 was 12C  – the bees were a month early – our little worker bees were responding to early warmth. So alarmed – I went flying down the fields and meadows – only to find mass bud burst amongst the wild garlic carpeting the riverbank and to be faced with yellow hazel catkins and gorse in full bloom –with snowdrops and crocuses catching the sun along the stone walls.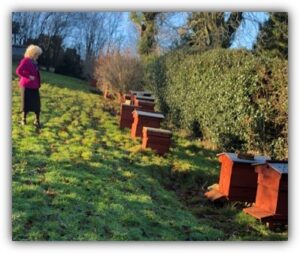 Left pic – New Year's Day –  Gloria stands astonished to witness some of the sun-drenched hives tempting the bees from their deep dormancy of winter – all in full flight
Our hedgerows bursting forth with blossoms – some 26 – 28 days earlier than the mid 1980's?
Content that these newly hatched worker bees were responding to the profusion of pollen (providing protein plus and vital vitamins for the baby bees) and sweet nectar to boost their flights to flowers with energy –  times are really changing – and fast!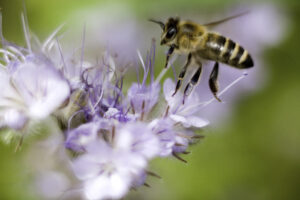 Troway Hall is a very special and exemplary environment for birds, amphibia and invertebrates including insects, bees, butterflies, earthworms, snails etc enabling not just honeybees  – but bees of all types including bumble bees ,mason  bees, wood carder bees and leafcutter bees to name just a few of the 250 types found around the UK alone. Bees seem to live in harmony with other types of bee – a live and let live instinct.
In fact – visitors sit on beautiful benches overlooking beehives and watch the bumble bees dart too and from underground nests at their feet – and at the same time  – hear and witness the thousands  of honeybees visiting a cornucopia of blossoms in orchards, along mediaeval hedgerows and amongst ancient meadows dating from the 16th Century.
CLICK onto PRODUCTS – AND SCROLL DOWN – unusual and distinct beehive products mostly made on site here at Troway Hall – honey and pollen aiding allergies,  propolis cream and other creams  effective against daily and tiresome skin problems –  with the full knowledge that many products are scientifically and independently tested by Government and Independent Laboratories.
Only last year – The Propolis Essence was sent to a well-known American Laboratory – which reported graphically and thoroughly the resultant active effectiveness against Sars 1- Herpes – Influenza and other viruses. Let us bear in mind – bees have been around 100 million years – when will we ever learn?
Prof Milton Wainwright Department of Molecular Biology and Biotechnology at the University of Sheffield says:
"In my view, there is absolutely no doubt that Medibee honeys are antibacterial and kill or inhibit the growth of a wide range of bacteria. The activity of these honeys is due in large part to the presence of complex phytochemicals obtained by the bees while foraging plants".
Read Prof Wainwright's World Honey Medical paper, click on link below and do look for our own Honeys, Troway Hall – WOW !
https://www.medibee.co.uk/world-honey-medical-paper/ 
Testimonials – we have by the pagefuls – new and different stories with unbelievable gratefulness to the Bees and their Ancient Remedies.